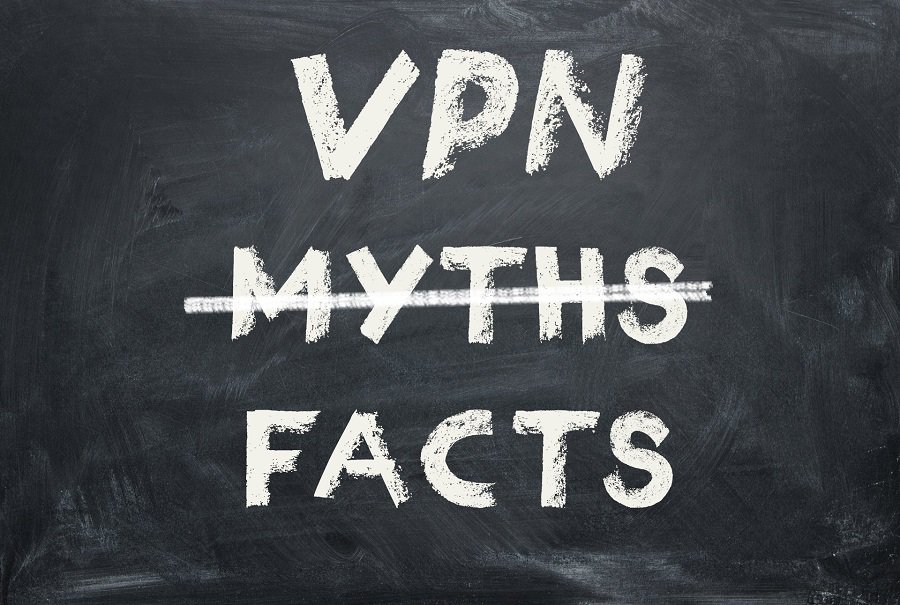 Speaking plainly, a Virtual Private Network is a technology solution that makes it possible to have a secure and anonymous web browsing. With VPN running on your device, the internet connection gets encrypted. This prevents any third party from snooping on your online activity. What is more, thanks to a good server performance, you can enjoy fast speeds, unlimited bandwidth, and have the access to geo-restricted, blocked, or censored websites, apps or streaming services. So, this is basically a brief overview of what a VPN is.
Now, let's have a look at some misconceptions about VPN services.
Myth #1. I don't really need a VPN service unless I do something illegal online
Many of us may think that there is actually no need to use a VPN. It is not a big deal if you don't have it installed on your phone, computer, or tablet etc. People just probably use it to access some restricted content online without being caught.
This is not true. VPN services are your little helpers in this online world. They are by your side to protect your identity, your data, and personal information. They care enough to provide you with private connections, simply because they understand and respect your right to have some privacy. Be sure that messages, photos, documents that you send over the internet can't be seen by prying eyes.
Myth#2. VPNs slow down the internet connection
It is one of the common misinterpretations about how virtual private networks work. It is quite possible that VPN service can slow down your internet connection. It can happen because there is a pretty large number of users connected to one server, or your physical location is too far from server physical location, or high-quality encryption eats up the CPU speeds. Or it's your ISP that provides you with a slow internet speed.
But these reasons are insignificant if you are using a reliable VPN.
On the contrary, VPNs have the ability to speed up your internet connection. For instance, if your internet provider throttles your connection, then VPNs can protect you from it. Also some of them have enough efficient tools and features that can speed up the browsing, torrenting, streaming etc.
Myth #3. A free VPN can be enough for private use
Obviously it sounds awesome to use a free VPN. You pay for nothing, and get some service in return. But you don't really get the VPN service you are supposed to. Free VPNs are limited with their features. They provide you with limited speeds and number of servers, so surely don't expect unlimited bandwidth. However, these may not seem to be so bad. You don't really need that much, just some security and that's all.
But to maintain its servers, a free VPN may make money on selling your personal information or browsing data to third parties. It stores logs on your activity. So they monitor what you do. Thus they don't guarantee security, anonymity, encryption, and privacy.
Myth #4. Any minimal logging is bad and so wrong
Most of the VPN providers claim that they don't keep any logs on your activity. However, some of them do, but only for improving your experience while using a VPN. They store a minimal amount of data for a number of reasons: to optimize your network connections, to fix and troubleshoot low-level service issues, to deliver the best service with fast speeds, to protect against abuse from hackers or advertisers etc. This minimal data logging is retained for a minimal period of time.
Myth #5. You are 100% untraceable while using a VPN. So, you can do online whatever you want
It is highly unlikely that VPN providers guarantee an absolute anonymity and security especially while you are doing something suspicious or even illegal. Even if you have paid for your VPN subscription via Bitcoin, there is a slight chance of you not being 100% anonymous. Visiting shady websites or opening phishing emails can make you vulnerable and less protected from hackers.