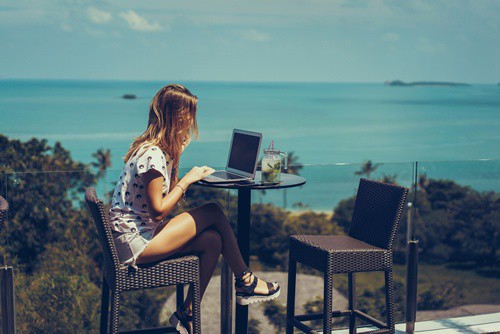 When you are on the go, things still can run efficiently from remote locations.
Internet users have an opportunity to enjoy a secure remote network access provided by VPNs. These services make sure you can have a quick, simple and, most importantly, protected connection while you are away from the local network. The way it works is not that much complicated.
All you have to do is to connect to a virtual private network and your device, e.g. your computer, will create a secure private tunnel to the VPN server on the remote network (over the internet or other open networks). It is just a small 'trick' that makes the system think that you are in a different location.
A remote-access VPN connection is enabled across the internet by a remote access client creating a dial-up connection to a local internet service provider (ISP) instead of an outsourced or corporate network access server (NAS). This remote-access server just requires user to provide valid credentials to sign in to the VPN. Thanks to the authentication, the confidentiality is guaranteed.

A remote-access VPN can be very beneficial for doing business. By creating a secure and reliable access to corporate resources for their remotely working employees, companies and corporations may: 1) enhance their business efficiency; 2) improve productivity and get more positive results; 3) minimize unnecessary expenses and save time; 4) grow big and expand; 5) improve security for exchanging data, and so on and so forth.
A VPN is something like a bridge that helps you to overcome any long-distance difficulties. It is fast and easy to take with whenever you go. VPN technologies are commonly used to give employees a great chance to perform their job duties and responsibilities when they are not exactly in the office area. Moreover, your business partners or contractors can have a remote access to the data they are allowed to. So, it highly increases productivity. All in all, such flexibility is a huge step forward for business environment.
It is pretty much obvious why people should start using a VPN. There are so many benefits that would make our lives easier.
Now let's have a small talk about free vs. paid VPNs. Sure thing, using a free VPN software is great. You pay nothing and in return you expect to have the full package with the best VPN features. I don't want to disappoint you, but the reality might be a little bit different for free VPNs. They can get easily blocked or disconnected from the remote servers. Plus, getting a customer service from a free VPN provider might not be what you expect. And of course – ads! These little annoying things will pop up on your screen on and on. Most free VPNs are able to offer Point-to-Point Tunneling Protocol (PPTP) with a standard encryption of only up to 128-bit. This one doesn't ensure you have a high level of security.
As to the paid VPNs, you can be sure that you will have a decent customer service and different types of VPN with strong encryption technologies offering you a higher level of security.