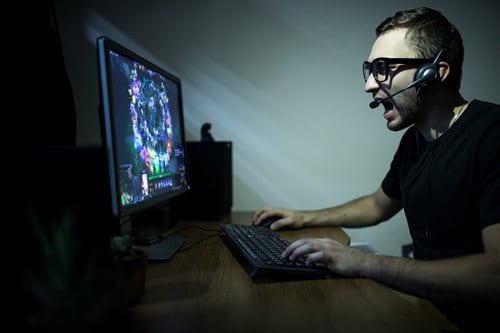 A virtual private network can make online gaming more enjoyable. Gaming VPN providers can unblock some geo-locked games, protect against DDoS attacks, lower lags and many more.
Playing games online is actually a pretty good way to have some quality time. That's why gaming is a mainstream kind of entertainment nowadays. If you are a gamer and have faced some difficulties, then this article might help you to find a solution to some of the problems.
A VPN service offers a great number of benefits that make players choose a VPN for a better gaming experience. And today we are going to speak about the top benefits.

First of all, a VPN system can lower throttling between a player and the server client by speeding up the network connection. If your Internet Service Provider (ISP) is slowing down your bandwidth, then you should consider connecting through a VPN server. Such protected tunnel-connection encrypts your web traffic, hiding it from your service provider. It is essential to have a high-speed connection. Obviously why. One of the best advantages created by VPN software is that gamers can enjoy fast gameplay that doesn't get interrupted.
Moreover, a VPN service can help to reduce ping times and lags. This is a good benefit, because these lags can be very annoying. No one likes such delays between the actions and the server reaction. It takes away a precious time.
In addition, VPNs ensure you keep your personal data secured and all downloaded files safe. It is possible thanks to standard encryption algorithms and security protocols.
Users all over the world have their gaming accounts that might be quite an interesting target to hackers. Such accounts are linked to the personal information. That's why they present a certain value to hackers. And therefore one might think of a good way to secure this information. You don't have to worry about your data being hacked and leaked. It is safe behind an encrypted gaming private network.
Gamers can play with other players from every country in the world! A user-friendly VPN makes sure you connect to remote servers and therefore you can overcome any geographic restrictions. You can play multiplayer games with your foreign friends with no buts.
Another interesting and rather amazing thing about using a VPN is that you can actually play 'early access' games! Yes, it is possible to be among the first ones to play certain games. All you do is download them from countries with earlier launch dates. VPNs can hide the real IP address of your computer. Thus, you don't have to waste your time by waiting when your favorite game will be available in your country. Instead, you make it seem like you are in a different location. It is a new way of traveling, a virtual one.
Have you ever experienced a suspicious disconnection right in the middle of playing an online game? You were just about to win, to beat your opponent but something went wrong. Well, if you are a fan of Xbox, PlayStation or any popular PC game, you've probably heard of  DDoS attacks on the gaming networks. DDoS attacks make gameplay unstable and inconsistent. The most vulnerable games are those that support private third-party servers, so when your IP is visible. However, it is okay, with VPN you can enjoy a fast running of Minecraft or League of Legends etc. It simply hides your real IP address, so no one can target you.