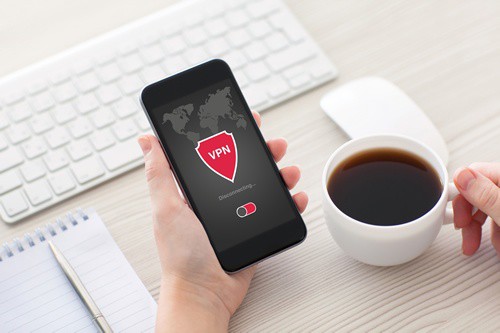 The benefits of using a VPN are numerous. However, according to recent studies you better be really careful about which app to choose to install on your phone.
You have probably heard about a VPN. It is a virtual private network. Anonymous web browsing, keeping all your online data and exchanged information safe, guaranteeing a secure access to a remote local network – these are just a couple of things that are possible thanks to the VPN.
Recent study shows that these virtual private networks are not as secure as they could seem. A group of researchers from CSIRO, UC Berkley, University of New South Wales and Malaysia's UCSI have studied free Android VPNs and here are the results.

They have studied 283 apps, and came to the conclusion that most of these free VPNs available on Google Play are in fact insecure, leak your personal data, contain malware and ads. So, it's turned out that most of them do not provide encryption, and what is more, your online activity can be easily spied on, i.e. third-party tracking is possible.
These Android VPN-enabled apps were tested by VirusTotal service. Researchers say that only 67% of the tested applications provide expected anonymous web surfing and security. 75% of them make your device vulnerable to third parties. So, they can track your online activity. And 82% of apps actually ask users to give them the access to their personal data, like accounts, device and app history, files etc.
What is more, 18% of apps do not encrypt users' web traffic at all, and about 84% leak it. Yes, they establish tunneling protocols, but they don't work. Hence, these free VPNs are useless, and online privacy and security are at stake. 38% of the analyzed VPN apps contain malware and advertising elements.
According to all these findings: a) only 4 out of 5 apps will request sensitive information; b) 4 out of 5 contain viruses, worms, trojans, and all kinds of malware; c) 2 out of 5 do not secure encryption.
The results are a bit confusing. All these VPN services are out there to protect our data and secure an online activity. This is their main function. This is what they were designed for in the first place. And yet, people unaware of those bugs install these free VPNs on their smart phones hoping to secure and protect their devices and private information.
Here is a table illustrating the list of the most unreliable apps. Almost half of them has been removed from Google Play.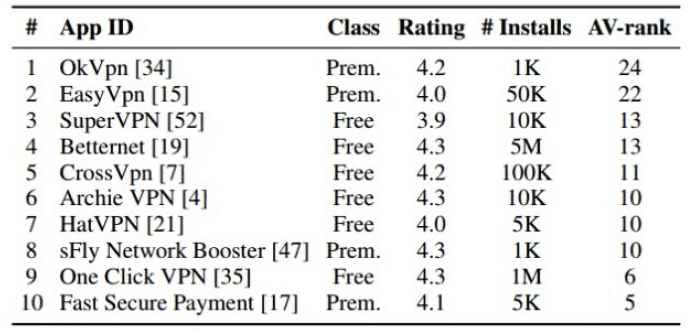 However, there is no need to get desperate. There is great number of VPN apps that perform their main functions. They might not be free though. So, the online security and privacy should to be paid for. And here is a simple tip: avoid using those apps that request too much permission. You don't know where it is going to find itself eventually.