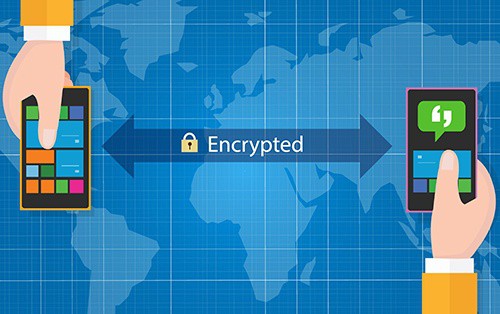 No matter how ridiculous it may sound, but we are being spied on every time we go online or send a short message on a mobile phone. Numerous shocking revelations like those by Edward Snowden in 2013 and the latest WikiLeaks report on our gadgets' vulnerability, recently introduced surveillance measures like the monitoring program in the UK prove the despair we actually find ourselves at, added by concealed supervision that government agencies execute with a view to provide our national security. The only way to hold privacy to some extend deals with encrypting the data sent and received via any gadget.

VPNs apply end-to-end encryption that empowers their secure tunnels and ensures that even if your data gets intercepted by the third parties, they will not be able to extract any useful information without an encryption key. The type of encryption implemented by a VPN provider is one of the significant service parameters, as well as the protocols, connection speeds, the logging policy etc. AES-256 is considered to be the most widespread encryption method, which is confirmed by government and private institutions protecting their communication channels with this 256-bit standard.
Good news is that several famous messengers are also equipped with end-to-end encryption technologies, allowing you to bypass connection to a VPN and start a private chat at once. Not only do such communication apps protect conversations from being compromised by third parties, but they also keep users' personal data secured from marketers and online promoters. Here is a short overview of the free messengers providing top security for you to communicate and share files.
WhatsApp
Released in 2009, this free-of-charge app allows messaging, voice and video calls now all encrypted end-to-end: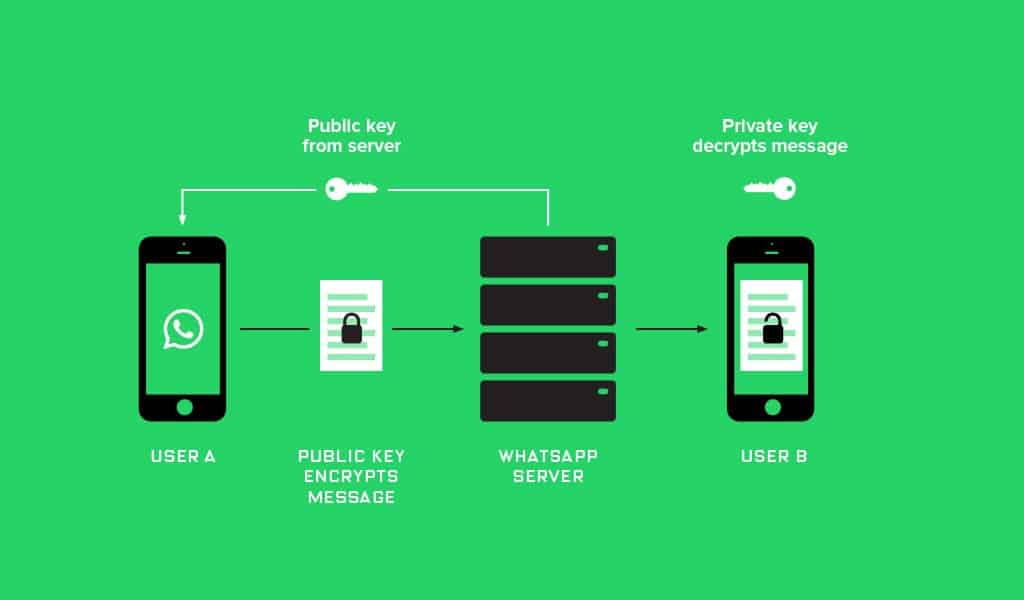 'End-to-end' means that neither unauthorized parties, nor WhatsApp team themselves will reach your texts or calls. Even if the encryption keys get compromised, they will not be valid for deciphering previously sent messages.
Platform Support: Android, iPhone, Windows, Mac and a Windows Phone.
Telegram
This famously secure and high-speed messaging app was launched in August 2013 as a cloud-based application with continuous unified synchronization: all your data can be accessed from several devices and stored in a cloud.
Platform support: Android, iPhone, iPad, WP, Firefox OS, Windows, Mac, Linux, and Chrome.
Signal
Some people will recognize this app under name 'Text Secure'. Signal is considered one of the pioneering communication applications promoting encryption algorithms to be applied in messaging and so far has been endorsed by Edward Snowden and Bruce Schneier.
Just like previously mentioned WhatsApp and Telegram, Signal employs 256-bit end-to-end encryption.
Platform support: Android and iOS.
Facebook messenger
Last year it was announced that Facebook messenger finally introduced end-to-end encryption. As opposed to higher noted apps, Facebook messenger encryption does not activate automatically, but should be enabled by a user separately for each conversation via clicking on 'Secret conversation' in the chat menu. Unfortunately, there are some limitations to the secret chat, which do not allow you to send videos, make audio and video calls or perform payments – those can only be transferred within an ordinary conversation.
To ensure secured communication via the 'secret chat', Facebook applies an upgraded Hashing algorithm together with Hardware Security Module (HSM).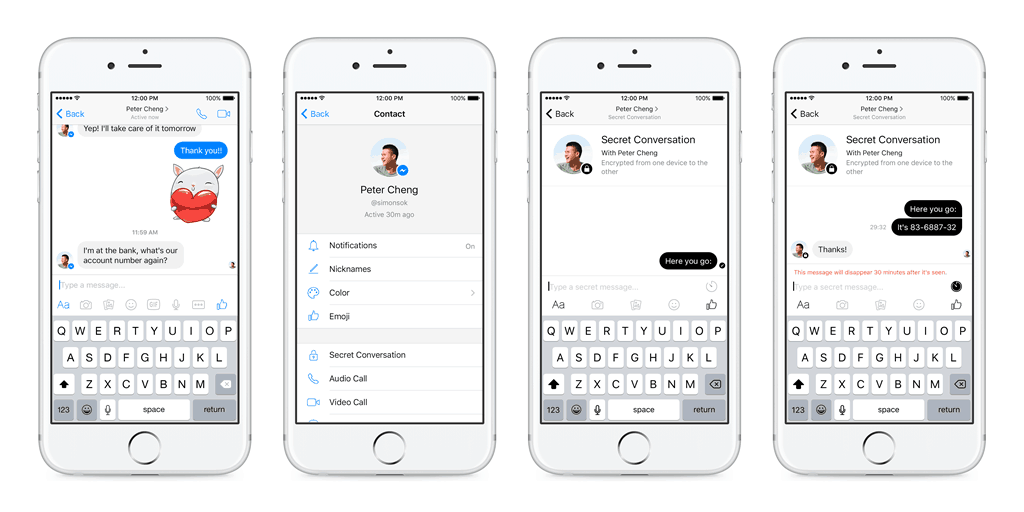 Platform support: Android, iOS, Windows, Mac
ChatSecure
ChatSecure is an 128-bit encrypted messenger for iOS released back in 2012. In late 2016 the messenger halted its Android support. One of the special application features is pre-installed support for anonymous chats in the TOR network.
Platform support: iOS.